Haley Baltz, PT, DPT, OCS, FAAOMPT
Haley is a Wyoming native who grew up in Kaycee, WY. She attended the University of Wyoming for her undergraduate degree in Kinesiology and Health Sciences in 2004. Following UW, she earned her Doctorate of Physical Therapy. In 2016, Haley became board certified in Orthopedic Physical Therapy and is fellowship trained in Orthopedic Manual Physical Therapy. She is passionate about physical health and the ability to help others enjoy an active lifestyle.
Outside the clinic, Haley enjoys being with her family participating in a myriad of outdoor activities and sports.
Terry Winnop, MSPT
Terry WInnop grew up in NE California. He graduated from the University of Nevada, Reno, in 1990 with a B.S. in Biology. In 1992, he graduated from the University of Colorado Health Sciences Center with a M.S. in Physical Therapy. Terry met his lovely wife Theresa (also a Physical Therapist) in physical therapy school and they have lived in Sheridan since 1995. Terry has two beautiful and exceptionally talented daughters. He enjoys functional training for sports, fishing, hunting, camping, mountain biking, hockey and tearing up his yard.
Jamie Gillenwater, PT, DPT, OCS
Jamie Gillenwater is a Wyoming native from Casper. She attended the University of Northern Colorado in Greeley, CO, where she received her Bachelor of Science in Sports and Exercise Science. She attended physical therapy school at the University of Colorado in Denver, graduating in 2011 with a degree of Doctor of Physical Therapy. When not working she enjoys being outdoors, hiking, biking, camping, snowshoeing and cross country skiing, along with watching football and reading.
Cheston Feaster, PT, DPT
Cheston is a Sheridan native, born and raised, and a graduate of Big Horn High School. He earned his Bachelor of Science in Kinesiology and Health Promotion from the University of Wyoming in 2013. He then attended physical therapy school at Pacific University in Forest Grove, Oregon, where he graduated with his Doctorate of Physical Therapy in 2017. Cheston is honored to practice in Sheridan and to be able to serve such a great community. He has a special interest in vestibular rehabilitation.
Outside of the clinic, Cheston enjoys taking in the Wyoming views, photography, cooking, following the Wyoming Cowboys and Denver Broncos, and especially spending time with his wife, Olivia, and son, Ivan.
Kaleb Zier, PT, DPT
Kaleb grew up in the small town of Basin, Wyoming. Growing up, he was constantly in and out of the physical therapy office with various sports injuries and surgeries which helped guide him to become a physical therapist. In 2012, Kaleb graduated from the University of Wyoming with a bachelor's degree in Kinesiology and Health Promotion. After that, he attended the University of Jamestown in North Dakota where he graduated with a Doctorate of Physical Therapy. Since his graduation of PT school, Kaleb has taken many continuing education courses to improve his manual therapy skills including spinal manipulation and dry needling. He also has a passion for effectively treating fitness athletes and getting them back to their respective sport or activity.
On his days off, you can find Kaleb either enjoying the outdoors with his dogs, snowboarding, at the CrossFit gym, or enjoying a beer at one of the local breweries.
Myriah Warren, PT, DPT, ATC
Myriah is a Wyoming native, growing up in Rawlins. She attended Colorado Mesa University, obtaining a bachelor's degree in Athletic Training. After that, she attended the University of South Florida, in Tampa where she graduated with a Doctorate of Physical Therapy in 2015.
When not working, Myriah enjoys mud runs with her sister, hiking, biking, skiing, running, traveling and spending time with family and friends.
Cassie Widener, MS, OTR/L, CHT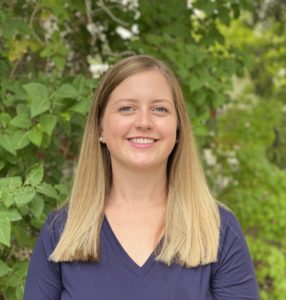 Cassie is originally from Bismarck, ND, where she graduated in 2011 from the University of Mary with her Master of Science in Occupational Therapy.  She moved to Wyoming with her husband, Ben, who is a Sheridan Native, and she is happy to call this wonderful community home!
In 2019, Cassie received the designation of Certified Hand Therapist (CHT) and strives to promote best practice for her patients in the care of the hand, elbow, and shoulder.  She chose this specialty after finding a love for the intricate anatomy and abilities of the hands, as they are often the lifeline to the activities we love!
Cassie enjoys exploring the outdoors, travel (especially if it includes fly fishing and scuba diving), cooking, and visiting family. Cassie recently earned her all-time favorite title of "Mom", after she and her husband welcomed their son to the world in January 2020.
Bailey Ready, MS OTR/L
Bailey grew up in Ekalaka, Montana. She completed her undergraduate degree at Casper College. She then went on to receive her Master's degree in Occupational Therapy from the University of North Dakota. Bailey feels very fortunate to have found a career that she has so much passion for! Helping patients regain their quality of life after an illness or injury is her favorite part of her job.
In her spare time, Bailey likes to ride horses, kayak, fish, be outdoors, craft, and spend time with her friends and family.
Kelsi Martinez, MS, CCC-SLP
Kelsi grew up in Wyoming, graduating in 2008 from Sheridan High School. She went on to the University of Wyoming where she completed her undergraduate and graduate work. Kelsi finished her Master's of Science for Speech-Language Pathology in 2013. After spending six years as a therapist in the school system (Cheyenne East High School, Sheridan Junior High School, Meadowlark Elementary School and as a homeschool/private school therapist), she entered Early Intervention (serving the 3-5 year old population) and started a contracting company, Fly Speech Therapy, to broaden her scope of practice and professional experience.
Kelsi is a wife and a mother of three girls which keeps her on her toes. She enjoys gardening, reading, spending time with her family, and eating delicious food!
Tara Bower, PTA
Tara moved from Louisiana to Wyoming in 1994.  From there, she graduated from Big Horn High School in 2004.  After high school, Tara attended Sheridan College where she received her Associates of Arts in Business in 2006.  Shortly after, she started working at Sheridan Physical Therapy.  In 2011, she decided to continue her education in physical therapy.  In 2013, Tara graduated with a degree in Associates of Applied Science in Physical Therapist Assistant from San Juan College.
In her spare time, Tara enjoys watching movies, playing volleyball, hiking, snow shoeing, and spending time with her husband.
Jessica Garden, M.S., ATC, LAT, ITAT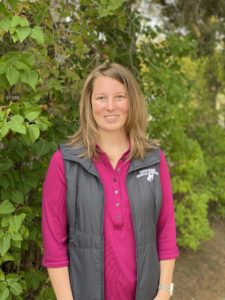 Jessica grew up on a ranch between Dayton and Ranchester. She graduated from Tongue River High School in 2008. In 2013, she graduated from the University of North Dakota with a Bachelor's of Science in Athletic Training and a Bachelor's of Science in Community Nutrition. She worked for a year as the Head Athletic Trainer for Sheridan County School District #1 before continuing her education at Kansas State University. She served as the Graduate Athletic Trainer for the K-State Equestrian Team while going to school. In 2016, she received her Masters of Science in College Student Development and Counseling with a focus in working with student athletes. After graduation, she worked as the Head Athletic Trainer for the Topeka Road Runners junior league hockey team. Jessica is back again to serve as the Head Athletic Trainer for Sheridan County School District #1. In her spare time, Jessica enjoys cake decorating and spending time on the mountains hiking, fishing, and camping with her husband and two dogs.
Megan Gibbs, M.S., ATC, LAT
Megan grew up on a ranch outside of Arvada, Wyoming and graduated from Arvada Clearmont High School in 2012. She graduated from Black Hills State University in 2016 with a Bachelor's of Science degree in Exercise Science. She then attended graduate school at Northern Arizona University, where she received a Master's of Science degree in Athletic Training in 2018. During her last year of graduate school, she completed a clinical rotation with the Wyoming Cowboys football and wrestling teams. In August of 2018, Megan started working at the Buffalo Physical Therapy clinic where she performed injury evaluations on middle school and high school athletes, administered ImPACT baseline testing for the middle school, and worked as a PT aide. Megan is now the head Athletic Trainer for the Sheridan Junior Hawks.
Kent Sherwood, MSPT

Kent graduated from high school in Elko, Nevada and attended the University of Nevada in Reno where he received his bachelor in science in pre-physical therapy. He earned his master's degree in Physical Therapy at Pacific University in Forest Grove, Oregon in 1995. Kent and his wife Kati founded Sheridan Physical Therapy in 1995. They opened an outpatient sister clinic in Buffalo WY in 2004. Kent enjoys spending time with his wife and three dogs. He also enjoys hunting, fishing, golfing and cruising around the Black Hills on his motorcycle with friends.
Kati Sherwood, MS CCC-SLP Speech Pathologist

Kati was born in Reno, NV. She received a Bachelors in Pre-PT before doing a post baccalaureate year at Portland State University. She then returned to Nevada for her Masters in Speech – Language Pathology. She enjoys working with adults who have swallowing disorders and neurogenic language disorders (expressive aphasia, dysarthia, apraxia). Kati has worked at the VMAC here in Sheridan and in Reno, NV. She has worked in skilled nursing facilities, but currently enjoys outpatient work here at Sheridan Physical Therapy and PRN at Johnson County Healthcare Center. Kati enjoys golf and gardening. She is a trustee @ Sheridan College and currently serves on First Federal Bank & Trust Board. A big animal-lover, Kati, and her husband Kent have 2 Labradors and a Basset Hound.